Adelphi University issued the following announcement on Oct. 5.
Long Island Business News has named Adelphi University President Christine Riordan one of the Top 50 Most Influential Women in Business. Launched in 2000, the Top 50 Women in Business awards recognizes Long Island's top women professionals for their business acumen, mentoring and community involvement.
Among the honorees are three Adelphi graduates, Regina Gil, M.A. '82, of Gold Coast Arts Center and Gold Coast International Film Festival; Kathy Munsch '93 of the American Heart Association; and Lori Vavrinec '82 of Fidelis Care. Alumna Ellen M. Labita '82 of Baker Tilly Virchow Krause, LLP, will be inducted into the hall of fame.
Honorees will be recognized at a special event on Thursday, October 18, at Crest Hollow Country Club in Woodbury, New York, from 6:00 p.m. to 9:00 p.m.
The first woman to serve as president of Adelphi, Dr. Riordan is an internationally recognized expert in leadership development, diversity and inclusion, and team performance. Since beginning her appointment as Adelphi University's 10th president in July 2015, she has worked with colleagues from across the University to establish priorities in enrollment and revenue generation, campus engagement, and diversity and inclusion. With Dr. Riordan's leadership, the University has launched a broader regional domestic recruiting strategy and expanded its international recruitment through a partnership with Shorelight Education.
Dr. Riordan led the establishment of Adelphi's Office of Diversity and Inclusion and initiated a Diversity Certificate training program. The University has also significantly increased the diversity of its teaching faculty in new hires the last several years—and, in the last two years, has welcomed the most diverse first-year classes in Adelphi's history as well as the overall largest-ever incoming class this fall. Dr. Riordan has demonstrated support for Deferred Action for Childhood Arrivals (DACA) students and has enhanced the concept of neurodiversity at Adelphi, focusing on services and programs such as Bridges to Adelphi, which helps students with autism spectrum disorder achieve success.
Prior to coming to Adelphi in July 2015, Dr. Riordan was provost at the University of Kentucky and dean of the Daniels College of Business at the University of Denver. She has published more than 60 academic and business press articles and has twice been named to the Long Island Press Power List of the 50 most influential people on Long Island. She consults regularly with organizations and is a frequent speaker on leadership, strategy, diversity and inclusion, and team performance.
Original source can be found here.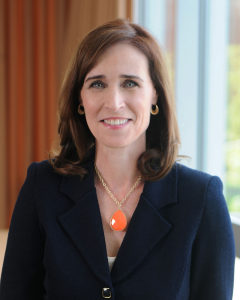 Source: Adelphi University